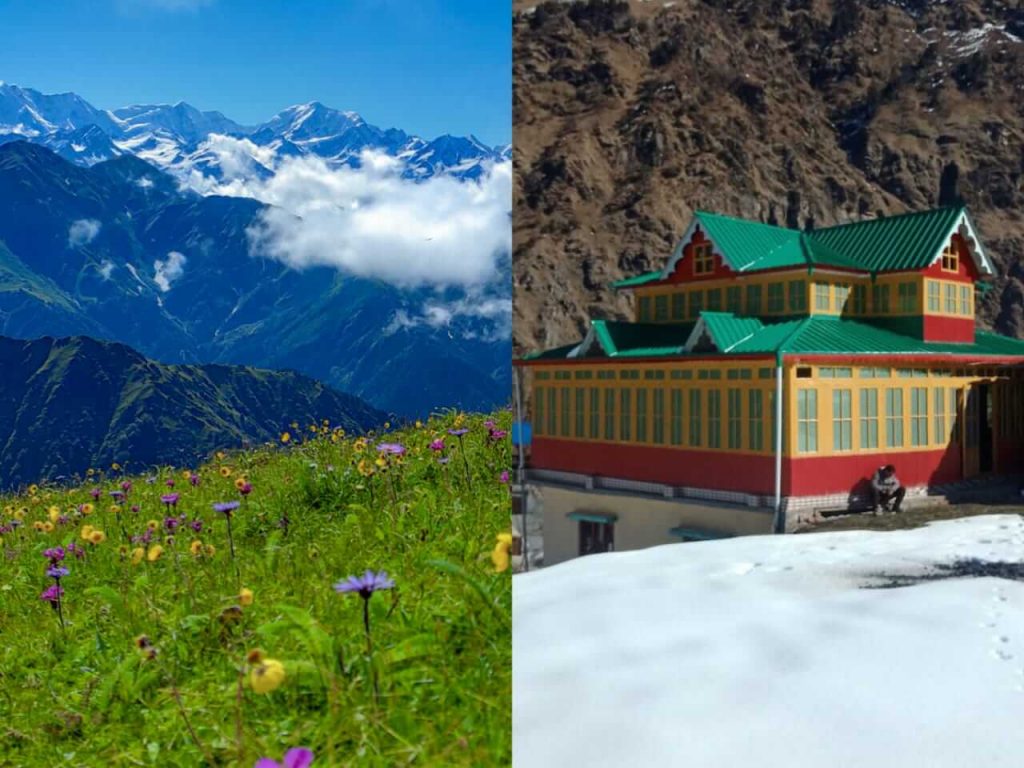 Less explored himalayan trek
Gulabi Kantha Trek Overview
Situated in Inner Himalayas, Gulabi Kantha Trek is one of the most beautiful Trek in Uttarakhand. Despite lying close to Yamunotri Temple and the famous Dodital lake, this trek remains much less explored.
Gulabi Kantha (Literally Meaning Pink Mountain) is situated, in Uttarkashi district of Uttarakhand, at an elevation of 12,430 ft above sea level and according to locals, derives its name either from the pink flowers that bloom here in Spring season or the pink variety of rhododendron (Burans) flowers found in the region.
…
One can witness 360 degree panoramic view of Himalayan mountain ranges from Gulabi Kantha Summit. Furthermore, Bandarpoonch peak, Kalindi sirkala, Shivalik mountains, and Chaukhamba peaks can easily be seen from this trek.
What make this trek more special is that it is an evergreen trek, i.e. it can be done throughout the year. In winters, this place remains dunked in snow which make it an ideal winter trek.
On the other hand, in summers one can enjoy the mesmerising view of vast meadow (Bugyal) of Gulabi Kantha. The meadow is spread over the 3.75 KM square area (2.5 km long and 1.5 km wide). Along with this, Gulabi Kantha could also offer a great variety of adventure sports opportunities such as skiing in future.
The base camp of Gulabi Kantha Trek Hanuman Chatti is situated at the confluence of the Hanuman Ganga and Yamuna river. Hanuman Chatti is named after the Hindu God Lord Hanuman. Situated at an elevation of 7,874 ft, Hanuman Chatti is at a road distance of 8 Km from the Janki Chatti, the base camp of the famous Yamunotri Dham.
One can also visit Yamunotri temple after completing the trek and take Darshan of Maa Yamuna. Yamunotri is one the four holy sites of chardham of Uttarakhand. It is a delightful place well known for its snow-cladded hill top views and alluring trails.
It is the source of the river Yamuna, and also known to be seat of the Hindu Goddess Yamuna, daughter of sun god, Surya dev. There are hot water springs spurting out from the cavities of mountains nearby the temple. The temple opens at 6 in the morning and can be visited till 8 in the evening. The holy arti performed at 6pm in the evening.
Apart from this, trek also serves as a base camp for Darwa Top trek and Dodi Tal Lake Trek.
Darwa Top which is also known as Darwa Pass can be done from Gulabi Kantha. Situated at an elevation of 13615 ft. this pass connects the Ganga and Yamuna River Valley.
Whereas, Dodital Trek is one of the most popular treks in Uttarakhand. This place is know also known as 'The Abode of Lord Ganesha'. There's a beautiful temple dedicated to Lord Ganesha on lakeside.
The holy Dodital lake is named after the Himalayan Trouts, locally known as 'Dodi', which can be found in huge amount in lake water. One can trek from Gulabi Kantha Top to Dodital via Darwa pass. This lake is origin of 'Asi Ganga River' which meet the Ganga (Bhagirathi) river in Uttarkashi City.
Exhilarating road trip to Base Camp of Gulabi Kanthi Trek is an adventure in itself. The upper reaches of Yamuna Valley in Uttarakhand are particularly quiet during the freezing winter.
One can get the first sight of snow-cloaked Bandarpoonch Massif from Barkot. Further, a temple dedicated to Maharshi Jamdagni, father of Lord Parashuram who was the sixth avatar of Lord Vishnu, is located in Than Village near Barkot. Lord Parashurama's mother Renuka is also a popular deity in this region.
Gangnani is another destination enroute Hanuman Chatti where locals believe that the confluence of three holy rivers (Ganga, Yamuna and Saraswati) in Hindu religion occurs. It should be noted that this Gangnani is not to be confused by another Gangnani enroute Gangotri Highway.
Another attraction on the route to Gulabi Kantha are the wooden multi-story houses that are hallmark of the Rawain Region, where the trek falls.
Let us take you on a journey to experience the cultural wealth of the Rawain region of Uttarakhand.
This package variant excludes transportation
You need to reach Hanuman Chatti on your own.
(Price valid for minimum 4 Person)
This package varient provides transportation (Pick-Drop) from Dehradun
Vehicle: Sumo/Bolero/Tempo Traveller
Pick Up Time: 6-7 AM
Pick-Up Location: Near Railway station, Dehradun
(Price valid for minimum 4 Person)
It was a wonderful experience on Gulabi Kantha trek with Wettarakhand. I was overwhelmed. The most i liked about their services is delicious food served during the Trek. The whole team was supportive specially guide Bhola ji.
It was my first experience with WeUttarakhand. I and my wife went on Gulabi Kantha trek with 10 other fellow trekkers. It was an amazing experience. All arrangement was done great. I will defiantly recommend this to my friend.
I did Gulabi Kantha Tek in 2021 with weuttarakhand. I must say the services was as good as the view was from Gulabi kantha top. The whole staff was humble and supportive all the time. Homestay, food and other services was top notch. looking forward to more adventure with you guys.
Nearest Airport –  Jolly Grant Airport Dehradun. ( 213 kms far from Sankri)
There is a daily flight from Delhi to Dehradun, which take around an hour to reach the city. 
Nearest Railway Station – Dehradun Railway Station. (187 kms far from Sankri)
You can take the overnight train to Dehradun from Delhi. 
Nearest ISBT: ISBT Dehradun
There is regular bus service from Delhi to Dehradun, from Delhi's ISBT Kashmere Gate.
How to reach Hanuman Chatti?
Hanuman Chatti is 170 KM far from Dehradun. You can book a taxi or share ride in local vehicle to reach Hanuman Chatti. 
We can arrange vehicle for you from Dehradun to Hanuman Chatti and return at an extra cost.
Gulabi Kantha trek is perfect getaway for beginner trekkers, family and children.

Along with Gulabi Kantha Trek enjoy the beautiful ride to Yamuna valley.

Gulabi Kantha Trek offers the mesmerizing sunrise and sunset view.

360° view of Himalyan mountain ranges 

From Gluabi Kantha Top witness the Mesmerizing views of Bandarpunch peak, Shivalik mountains range, Bali pass, Sarutal range, fachu kandi pass, and Chaukhamba peaks.
Experience the local culture and hospitality.
Gulabi Kantha trek is less explored himalyan trek in spite of lying close to the popular Dodital lake (The abode of Lord Ganesha).